议程下载
注册参加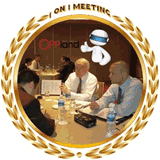 Sponsors

IDS Ingegneria dei Sistemi S.p.A. - Providers of high technology solutions and services
IDS is an independent engineering and systems technologies company, providing research, innovation and products in the electromagnetic and air navigation fields for both civil and defense applications.
Since 1980 IDS has specialized in providing consulting services for high-tech engineering projects and in developing integrated software solutions and measurement systems.
IDS has a strong customer focus and is committed to meeting customer requirements with high quality innovative solutions.
IDS is an international company with around 500 professional employees who are mostly graduates in electronic, telecommunications and aerospace engineering.
IDS'S headquarters are in Pisa, Italy and it has subsidiary companies in Australia, the UK, Canada and Brazil.
www.idscorporation.com

坤帝科的创新型供应链计划和优化平台,助力企业提升供应链管理各个环节的效率,加强企业从单一计划环境到复杂业务环境下的端到端的所有人力,资源,以及流程的计划管理和优化。越来越多的空中导航服务提供商(ANSP)正在使用坤帝科的空中交通管制(ATC)人力资源计划与调度解决方案的来解决他们在疲劳风险管理、排版、运营和培训等方面的调度难题,今天,估计掌管着世界上35%以上的空域的ANSP正在使用坤帝科解决方案,其中包括:德国(DFS)、加拿大(NAV CANADA),澳大利亚(ASA), 美国联邦航空局(FAA)等空中导航服务商。
成立于1997年的坤帝科发展迅速,总部设于荷兰和美国,全球发展中心位于马来西亚,其办公室遍布全球。坤帝科的供应链计划和优化软件应用于全球78个国家的500多个地区。
更多信息请联系:
周俊
坤帝科中国 市场部
电话:+86 (0) 21 5351 3887
电子邮箱:rainbow.zhou@quintiq.com

缤特力是世界领先的专业及消费类语音通讯产品制造商。从统一通信解决方案到消费类蓝牙耳机,缤特力的产品具有无与伦比的音频质量,体现了我们50多年的创新与对客户的承诺。缤特力的产品在全球财富100强的企业中得到广泛使用,是美国空中调度中心,美国911紧急电话中心和纽约证券交易所的耳机选择。欲了解更多信息,请访问www.plantronics.com

EIZO Corporation has been a leading global manufacturer of high-end visual display products since 1968. We have acquired a wealth of engineering and manufacturing expertise in air traffic control, industry, business enterprise, medical, and graphics. This expertise together with representation in more than sixty countries enables us to provide a diverse range of innovative products and an unrivaled level of service and support worldwide.
EIZO's extensive lineup of display solutions fulfills the diverse requirements of almost any ATC environment by providing various feature sets, support for current and legacy systems, and reliable long-term operation. EIZO products are installed in ATC facilities worldwide including many operated by EUROCONTROL, HungaroControl, DFS (Deutsche Flugsichernung GmbH), LFV (Luftfartsverket), and Finavia.
EIZO offers a wide range of visual display solutions for ATC environments:
-Primary Control Monitors (4K x 2K and 2K x 2K)
-High-Bright Tower Monitors
-Auxiliary Monitors
-Primary Control Graphics Boards
-DVI-Based Video and Audio Recorders

Schmid Telecom's headquarters are located in Zurich, Switzerland. As a global company, we have subsidiaries in 6 other countries and a global distribution network comprised of reliable, experienced business partners in all the important markets. We focus on the development and successful marketing of our top quality products and solutions. Our production is handled by specialised local companies throughout the world that manufacture our products in accordance with strict control parameters. Our customers bene?t from high manufacturing quality and production ?exibility.

Established in 2003, Techsense is proud to be a leader in real-time, full IP and web-based weather information systems. . Our key strength lies in the meteorological expertise along with strong software and hardware skills, proved by the success of developing our own suites of related products with the latest technologies. Techsense METairport AWOS enables effective airport operations by combining all obtainable meteorological data at an airport with a suite of realtime data transmission and web-based intuitive user interface.