Get Event Brochure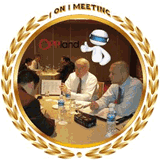 Coal is the Foundation of Energy in China.
In 2011, 70% of China's energy consumption was supplied by coal, and coal-fired power generation will clearly continue to play a leading role in China's power production for the foreseeable future. While it is crucial to fulfill the energy demand of the growing Chinese economy, the environmental impact of energy production must be minimized, therefore, China's power generators must strive to increase power generation while decreasing the related environmental impacts.
China has committed heavy investment to improve coal fired power generation. What's worth noting is, China has officially launched the R&D program of 700¡æ ultra supercritical coal-fired power generation technology in 2010, and a ambitious plan has been rolled out to transform conventional power plant into cogeneration units, which provide enormous opportunities for fossile generation industry stakeholders.
ADVANCED COAL POWER-GEN CHINA 2014 will be gathering 250 industry professionals representing power plant operators and clean coal technology providers together, discussing topics of 700C ultra supercritical coal power-gen technology development in China, power generators's clean coal strategy and technical roadmap, CFB boiler technology for fossil fuel combustion, metal material technology for high-tempreture component development as well as emission control and CO2 capture technologies for green power plant operation.
Key topics to be discussed on ACPG China 2014
Advanced coal power-gen development in China: Roadmap, technology advancement and business opportunities
Strategies of China's power generators, Shenhua, Huadian, Huaneng, Datang etc to improve coal power generation
Technology advancement of large capacity ultra-supercritical and cogeneration unit in China and globally
CFB boiler technology for reliable and clean fossil fuel combustion
Conversion of Conventional Power Plants to Cogeneration Facilities: technical challenges, pitfalls and solutions
Improved emission controls for coal fired power plant: latest combustion and CO2 capture technologies
Control and operational management solution of large-scale coal-fired power plant development
Huaneng GreenGen IGCC project: operational management experiences and lesson learnt
High-temperature material technology innovation for ultra-supercritical unit development
Design, casting, and life-cycle maintenance of steam turbine key components, blades, vanes, nozzles etc
Day One Mar 12th, 2014 Wednesday
Advanced coal power-gen development in China and Globally: outlook, technology roadmap and project updates

Day Two Mar 13th, 2014 Thursday
Technology Innovation Drives Coal-fired Power Generation Improvement

AM SESSION:
(0900AM-1230PM):

Tasks of environmental protection and emission controls for power generation, technology roadmap for next-gen coal power generation development in China and challenges ahead

PM SESSION:
(1400PM-1700PM):

High-efficient Coal Fired Power Generation Plant Development in China: Construction, Operation Management and Efficiency Improvement

AM SESSION:
(0900AM-1230PM):

Advanced ultra-supercritical coal-fired power generation technology Development in China and Globally, as well as technical challenges currently facing

PM SESSION:
(1400PM-1630PM):

Pollution Control in Green Coal-fired Power Generation Plant Operation
WHO should attend?
Thermal Power Plant Operators
Boiler and Steam Turbine OEMs
Component and Parts Suppliers
Acamedy and Research Institute
Equipment and Services Providers
Engineering Design Providers