Get Event Brochure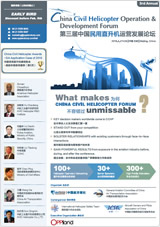 Media Partners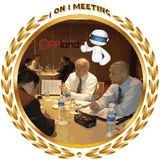 Media
Any enquiries about media cooperation, please contact:
Echo Sun
Tel: +86 21 5058 9600
Fax: +86 21 5058 5987
Email: echos@opplandcorp.com
Strategic Media Partner

《公务与通用航空》是中国内地唯一公开发行的专注于公务与通用航空领域的专业媒体。杂志由中国最大的航空传媒集团——中航出版传媒有限责任公司出版,拥有杂志、会展、出版、声像等全媒体出版传播优势,可以为企业和专业人员、行业投资者、潜在购买者提供全方位的资讯服务,创造意想不到的宣传和传播价值;本刊拥有最广泛的合作联盟,与全球领先的航空专业媒体《航空周刊》(Aviation Week)以及《公务与商务航空》(Business & Commercial Aviation)结成战略合作伙伴关系,与多家国内相关媒体、协会、公司、高校、研究院所、咨询机构建有广泛的信息传递渠道和合作机制。

Flight Story Aviation Network is a the DongminginternationalAviation media's professional aviation community website depth reports, is China Aviation Media Network Alliance (CNAMA) initiating and governing units,authoritative view of the organic integration of real-time aviation information professional perspective, providing quality, original news and reviews of the best aviation crowd.
Flight Story Aviation network(FSAN) focused on building the community of inter-regional leading theme of flight, reports the latest aviation industry dynamic, publishing the latest and most accurate information of the aircraft, and the establishment of Professional Flight Forum Center.


《私人飞机》杂志创办于2011年,中国民航局局长李家祥为杂志创刊号亲笔题词"中国私人飞机起航",对杂志的发展寄予厚望。杂志定位于"中国私人飞机阶层的专属期刊和中国航机媒体新的传播制高点",作为一本公务与通用航空类高端生活方式杂志,每期关注私人飞机领域的主打专题,围绕近期的热点展开讨论,关注市场和行业、动向,亦关注机型、投资趋势热点和圈层活动。
Media Partner

Helicopter Links is an international online directory listing helicopter manufacturers, commercial operators, suppliers, services, trade shows, air shows, magazines, associations, organizations, museums and more. Helicopter Links offers advertising opportunities, one free listing to any helicopter company, supplier or service, and the website is available to use by anyone worldwide, at no charge.

Skytamers web portal www.skytamers.com provides daily information about the aerospace industry and also feature marketplace platform for aircraft. It is built as a central platform for visitors who need information regarding aerospace training , conferences, news and events

For 30 years, Shephard Media has been providing high-quality business intelligence to the aerospace and defence markets, through a combination of magazines, online news services, handbooks and global events. Particularly well known within the rotorcraft, unmanned vehicles, C4ISR, military logistics and land warfare markets, Shephard Media is poised to expand into new sectors and provide new offerings to ensure that we best serve our global markets as a leading supplier of business intelligence.

Police Aviation News is published by Police Aviation Research.
A wide experience of law enforcement aviation in the United Kingdom and other countries enables PAR to maintain a close working relationship with the providers of law enforcement aviation through over thirty years of intensive operations.
PAR has created a unique news dissemination service within the industry which now specialises in the Airborne Emergency Services on a world-wide basis. PAR produces fully researched papers and market assessments on demand. Customers have included leading manufacturers and their agents.

ROTORBLATT is the leading helicopter magazine in Germany.
News and portraits: about defence, law enforcement and border patrol, air rescue, business aviation, helicopter technology and flight training, plus news on the industry and products
Readership: helicopter pilots and crews, individuals working for air rescue and helicopter operators, governmental institutions and organizations in the civil and defence segment, maintenance technicians and emergency doctors. Additionally, the magazine is targeting the young generation of future pilots and individuals with profound interest in helicopters.
Total Circulation: 4.586 copies (source: publishing company, III/13) ROTORBLATT is the official organ of the DHV (German Helicopter Association) and of other organisations embedded in the German Airforce, Army and Police.

BizJet Advisor - For Lifestyle & Business
BizJet Advisor magazine gives expert advice on the options available whilst our case studies feature global entrepreneurs and reveal how they use business jets to maximise both their business and their limited leisure time. BizJet Advisor is circulated to business leaders, entrepreneurs and high-net-worth individuals &government officials throughout China.

AviaTime – an international aviation news publisher, covering the audience of over 110 000 subscribers and 50 000 website visitors worldwide. With top aviation news published in English, Russian and Polish, the multilingual approach makes AviaTime the best connection for business information sharing between East and West. Through daily, weekly and monthly newsletters AviaTime ensures that the latest industry news instantly reach its readers in Europe, Asia, Americas, the CIS and other regions. With a specific focus on aviation executives and professionals, AviaTime gives a unique opportunity to keep key decision makers informed about the main developments in aviation.

For the Best in Modern Military and Commercial Aviation
AIR International has established an unrivalled reputation for authoritative reporting across the full spectrum of aviation subjects. With more pages than ever, all still dedicated to commercial and military aviation, we have correspondents and top aviation writers from around the world, offering exciting news, features and stunning photography in each monthly issue.


CNCOPTER is the first website focusing on the development and research of the helicopter industry in China. Our main target is to study and integrate the domestic helicopter demand and development by supplying the latest and most comprehensive helicopter materials including plenty of introduction, pictures, news and so on in the helicopter industry. Designing a different web page for each helicopter model in the world to record its developing history in the industry is our goal.

In China's aviation industry, no matter whether they are the leading cadres of Civil Aviation Administration of China (CAAC), or the management of each airline carrier, even many frontline employees in the aviation sector use CARNOC.com as their main channel for the latest civil aviation updates. CARNOC have a monthly average of 1,640,000 visitors with 6,000,000 page views while registered users now total 512,000 with 88,000 being industry professionals. Moreover, more than 8,700 users currently subscribe to CARNOC.com Chinese Aviation News Email Alerts, and almost one out of every six Chinese civil aviation insiders is using resources provided by www.CARNOC.com.

中国民用航空网由中国民用航空局官方媒体《中国民用航空》杂志主办的中国民航、航空制造业最大的中、英文门户网站。拥有来自民航各实体单位的新闻通讯员1300多名,每年至少向网友提供60000条新闻资讯,5000个头条新闻,500个热点聚焦、100个深度专题及重大民航会议论坛的现场直播,是目前民航、航空制造业细分最广、容量最大、资讯最新最及时的新闻门户网站。

China General Aviation Network(www.tyhk.com.cn)is a nationwide GA industrial network media technically supported by both Liaoning GA research institute and Shenyang Aerospace University. operated by Liaoning GA Development Co.,Ltd(the industrial promoting platform for the development of GA in Liaoning province),the website whose aim is to serve the whole country but roots in Liaoning is a consultative service platform for the scientific development of GA industry.

航趣私人飞机网(以下简称:航趣飞机网)成立于2010年12月,是中国通用航空业最大的网上垂直门户。我们关注中国通用航空市场发展,致力成为通航企业和用户之间的桥梁。我们提供通航产业新闻,通航人才招聘信息,飞机导购,还为下游企业搭建平台,提供飞机交易,包机租机,飞行体验旅游等综合服务,我们正在努力打造中国最好的通用航空综合服务平台。

GARNOC.com, established as CARNOC.com's gerneral aviation subsidiary in 2012, GARNOC.com has recorded a significant traffic surging 15 times, with its customers reaching 152. GARNOC.com has held General Aviation and Media Communications Forum for two consecutive years and keeps a close relationship with the authorities.

快飞网成立于2014年,依托于中船电子科技有限公司旗下全资子公司-海丰通航科技有限公司,二十几年的行业积累铸就如今涵盖通航行业全产业链服务,并提供业内最新咨询新闻。我们致力于打造中国最好的在线预订通航飞行服务平台,以高效、卓越、可靠的态度提供轻松、便捷的服务。如果你向往飞行,梦想翱翔于蓝天碧水间,加入快飞网,为您提供管家式的私人飞行服务,全面快捷的飞机选购、飞机养护、金融托管、改装保障等所有环节,并为准备飞行的您提供飞行相关情报、配重、飞行线路、配件补充等专业化建议和辅助决策,帮助您落实一切飞行梦想。

中国航空经济网是在中国民航局相关领导支持下,由国家发改委综合运输研究所联合国务院发展研究中心、国务院研究室相关司局共同发起,面向民航领域的专业类网站,也是国内第一家专注航空经济领域的专业网站。网站以在线网上培训学习、线下组织会议培训、人物展示、政策解读、行业风采、信息交流为主,致力于为航空公司、机场、临空经济区、通航公司及航空制造企业等客户,提供高品质的专业服务。

航空商务网是厦门蓝通航空商务服务有限公司开发运营的专业航空门户类媒体平台,内容以发布通用航空商务信息为主,板块分为航空资讯、私人飞机销售(含二手机)、飞行执照培训招生、飞机租赁、航空文化创意、FBO项目建设运营和直升机空中旅游在线订票系统。

一览航空航天英才网为一览英才网招聘网站成员,是中国第一家专门为从事航空航天行业的企(事)业单位及人才提供招聘、求职的网上人力资源综合解决方案供应商,产品项目包括品牌广告推广、网络招聘、资质升级、航空航天专业猎头服务、薪酬调查、HR管理咨询等服务。

临云行(www.lyunx.com)广州云行网络科技有限公司主办:从我国航空业真实需求出发,以业内各年龄段的高覆盖率、实现手机与电脑多渠道自由交流.通过个人展示、互助问答、资源分享、交流社区的建设理念,积极为云友提供最为关心的资讯新闻和文档资源,鼓励支持云友交流互助与求知解惑,展示通航、民航从业人群鲜明个性的精神面貌,并积极为云友及各大航企牵线搭桥,帮助云友获取职业机遇与技能提升。让更多向往蓝天的云友更深入了解航空行业,提升职业水平,真正实现中国人的蓝天梦。