Get Event Brochure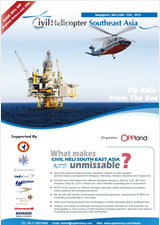 Media Partners
Accelerating Growth and Cooperation for a Win-win Situation
Civil Helicopter of Southeast Asia is in an infinite demand!
There are approximately 750 civil helicopters operating in Southeast Asia and these years we witnessed the rapid growth at the rate of 8% in this market, especially Malaysia, growing by nearly 10% last year("*source: Asian Sky Group"). Malaysia has a strong offshore operational base, and offshore oil and gas exploration and production is growing in importance as industry activity in the region continues to gain momentum. Meanwhile, Indonesia, Myanmar and Vietnam have extending their market share in different degree. As E&P activity gains momentum offshore SE Asia, which indicates a huge potential in offshore market. We have reason to believe that, in the near future, the Southeast Asia offshore market will enjoy an explosive development in an all-round way.
However, there some undeniable problems existed in Southeast Asia, poor airport infrastructure and helicopter pilot shortage has long been the headache. In some countries like Myanmar, there still are political barriers that constrain the further opening of the market.
Civil Helicopter Southeast Asia Summit 2015 will be gathering 200 industry professionals representing relevant government officials, OEMs, operators, financing providers and leading industry solution providers together, discussing topics of South East Asia Civil Helicopter Market Forecast and Regulation Update, Offshore Oil and Gas Helicopter Market in SE Asia, Exploring best training approach to tackle pilot shortage challenges in Asia and EMS& Law Enforcement Helicopter Market Prospects. In this unique occasion, you can capitalize on the fast expanding helicopter opportunities in South East Asia, strengthen your leadership branding, gain visibility and increase market awareness, demonstrate your product value proposition and develop partnerships with key local prospects.
Event Structure at a Glance

What Makes Civil Helicopter Southeast Asia Unmissable?
Hear from general aviation industry regulators' speech on policy updates and heli industry development in Malaysia, Indonesia, Vietnam, Myanmar and Thailand etc.
Get first-hand information from offshore helicopter operators, Bristow, CHC, BP, Shell Weststar, Pelita Air, SSFC Vietnam etc. about heli-fleet expanding plan & requirement
MOT& DCA's speech on offshore helicopter operation safety recommend procedures, safety initiatives and develop procedures
Mix up with 200 industry professionals representing operators, manuacturers & MROs for networking & partnership in SEA region
Share best training approach and technologies to tackle helicopter pilot in southeast Asia
Analysis and outlook of Helicopter leasing and insurance demand for SEA countries, we bring together a cross-section of both industries including operators, financiers and lawyers in growing and supporting Asia's fast moving fleet