金融领域相关会议

2014会议视频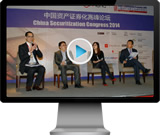 议程下载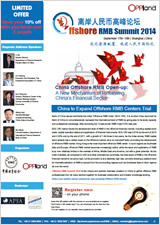 微信平台二维码

了解更多关于离岸人民币最新资讯
latest news in Offshore RMB industry
特邀微信资源分享平台

新闻
The Offshore RMB Summit will be taken place in Shanghai soon!
The Chinese government pointed out that China is to deepen financial reform, continue to promote the interest rate market expand exchange rate floating range of RMB capital account convertibility during the Third Plenary Session. While, People's Bank of China also expressed liberalized market deposit rate in the next two years, China gradually improves regulatory association of RMB internationalization and interest rate reform in financial markets via the pilot process of internationalization.
The approval of China (Shanghai) Free Trade Zone is aiming to build the platform for foreign investors. RMB has become the worlds' eighth-largest payment currency and the second largest monetary trade financing. At the end of 2013, offshore RMB deposit is 1.5 trillion, while the offshore RMB loan was only 400 billion. It is far victory away from the tens of trillions dollars of offshore Euro loan regarding to offshore RMB deposits, so offshore RMB market is substantially huge. However, the development of the offshore RMB market has a tremendous challenge on the domestic RMB exchange rate markets and capital account convertibility freely.
To share status quo and future strategy of global Offshore RMB market, exchange success experience, promote cooperation of industry chain, Offshore RMB Summit 2014 will be held on 17th to 18th September 2014 at Shanghai China. We are inviting China and foreign government officials, global Offshore RMB centers, managers of banks, China central banks, securities, leasing companies and related professors to join and take a speech. It is of great importance to discuss the opportunity and challenge for the sustainable development of offshore RMB industry.
The Offshore RMB Summit 2014 will provide you the opportunity to acquire new knowledge, strength business partnerships, seek opportunities and. We are indeed honor to invite you to join with us for the development of global offshore RMB market.
For more information, please contact Ms. Sun via marketing@opplandcorp.com or visit our event website: www.opplandcorp.com/offshorermb.