Financial Series

Video of 2014 ABS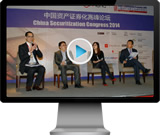 Get Event Brochure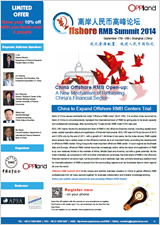 Scan QR Code

了解更多关于离岸人民币最新资讯
latest news in Offshore RMB industry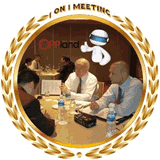 Do Not Miss Out on China's Unique and Premier Offshore RMB Summit
Chinese Government at the Third Plenary Session pointed out that China is to deepen financial reform, continue to promote the interest rate market, expand exchange rate floating range of RMB capital account convertibility. People's Bank of China Governor Zhou Xiaochuan also expressed liberalized market deposit rate in the next two days, while shanghai Free trade zone introduced specific details of financial reform and RMB cross border trading to promote the internationalization of the RMB through improving relevant regulatory rules and operational details of the process. China gradually improves regulatory association of RMB internationalization and interest rate reform in financial markets via the pilot process of internationalization.
At the end of 2013, offshore RMB deposit is 1.5 trillion, while the offshore RMB loan was only 400 billion. It is far victory away from the tens of trillions dollars of offshore Euro loan regarding to offshore RMB deposits, so offshore RMB market is substantially huge.
Shanghai Stock Exchange has relaxed QFII and RQFII investment scope. Variety of transactions is invested, in addition to stocks, bonds, funds, warrants, preferred shares added, policy financial bonds, asset-backed securities, new varieties of binds pre-released transactions. Meanwhile, RQFII increases the amount of 200 billion, the total reached to 270 billion. With the gradually open-up of Shanghai Free Trade Zone, China brings new journey of RMB internationalization. RMB becomes the seventh most used currency worldwide, according to global transaction services organization SWIFT.
2014 Offshore RMB Summit, host by Shanghai OPPLAND, will be held at 17th to 18th September in Shanghai China. This brings Chinese regulatory, issuers, institutional investors, investment banks, and bond companies with in financial industry leaders, especially focusing on the China Offshore RMB market development and RMB internationalization and hot topics about shanghai free trade zone financial reforms. Offshore RMB market is in its nascent stage, let us witness how Offshore RMB market grows up steadily.
The Congress will Focus On:
Hear Regulators' Perspectives on the Development of Multi- Offshore RMB Center
Utilise Strategies and Channels to Creat a More Liquid Offshore RMB Market
Tap Opportunities for Dim Sum Bond Markets Associated with The New Regulations and RMB Appreciation
China (Shanghai) Pilot Free Trade Zone to Help Foreign Investors' Licenses to RMB Offshore market
Regulatory Developments Needed to Spark China's Onshore Market
Explore Best Practices for Straight-Through-Processing for the Offshore RMB Market
Effectively Offering RMB Financial Products: Offshore RMB IPOs, Cross Currency Swaps, Transactional Banking Products and Sertvices
Event at a glance