>>> Web Site: www.opplandcorp.com/themepark/eb/0519-1/

--- 2015.06.10-12 Shenzhen, China
倒计时!-第四届亚洲主题公园与度假区高层论坛
The Final Countdown – 4th Annual Theme Park & Resorts Asia Congress


第四届亚洲主题公园与度假区高层论坛正在紧锣密鼓地筹备当中!除了高质量得发言人和强大的Panel,本次大会也是非常接地气, 组委会特别邀请了众多深圳当地的旅游项目开发商与景点。


The 4th Annual Theme Park & Resorts Asia Congress is now under preparation! Of course we have invited high standards speakers, in addition, we also invited many local tourists' destination and developers to make our conference be a good civil servant.
东部华侨城
OCT East

深圳东部华侨城坐落于中国深圳大梅沙,占地近9平方公里,由华侨城集团精心打造,是国内首个集休闲度假、观光旅游、户外运动、科普教育等主题于一体的大型综合性国家生态旅游示范区,主要包括大侠谷生态乐园、茶溪谷度假公园、大华兴寺、酒店群、天麓大宅等六大板块,体现了人与自然的和谐共处。
Shenzhen Overseas Chinese Town East (OCT East), located at Dameisha of Shenzhen, China, covering an area of 9 sq. km and elaborately designed by OCT Group, is the first domestic large comprehensive national ecological tourism demonstration district integrating various themes, such as relaxation, vacation, sightseeing tour, outdoor sports and science popularization education. It mainly includes six parts, i.e. Knight Valley Eco Park, Tea Stream Valley Holiday Park, Wind Valley Sports Park, Huaxing Temple, Theme Hotel Cluster and Tianlu Mansion, embodying the harmonious coexistence between human beings and the nature.
华强文化科技集团
FANTAWILD HOLDINGS INC

华强文化是目前国内唯一具有成套设计、制造、出口大型文化科技主题公园的企业,也是国内唯一一个从主题公园创意设计、研究开发、内容制作、施工建设、到市场运营全产业链运营的企业,打造了"方特欢乐世界"、"方特梦幻王国"等多个完全知识产权的文化科技主题公园品牌,目前已成功在芜湖、泰安、青岛、株洲、沈阳、郑州、厦门等地投入运营多个主题公园,并出口至伊朗和乌克兰等国。
Fantawild Holdings is currently the only company in this country designing, manufacturing and exporting of large entertainment technology theme park solutions, and is also the only company operating a full industry chain from theme park concept design, research and development, content production, construction to market operation. We created a number of entertainment technology theme parks with our intellectual properties, such as "Fangte Happy World", "Fangte Magic Kingdom", have successfully established and are operating several theme parks in Wuhu, Tai'an, Qingdao,Zhuzhou, Shenyang, Zhengzhou and Xiamen, and have exported them to Iran and Ukraine.
深圳世界之窗
Shenzhen Window of The World

荟萃人类文明,弘扬世界文化,作为中国文化主题公园第一品牌,深圳世界之窗不仅包罗世界130余处名胜古迹及各民族风情表演、再现各国文化精髓、展示异域民俗风情,更以时尚的娱乐元素为游客带来最潮流动感、最丰富多彩的" 世界之旅 "!全新动感参与项目"穿越欧罗巴",带领游客感受浪漫田园与人文风情的激情碰撞。全球首座实景拍摄悬空式球幕影院──飞跃美利坚,让游客感受难以忘怀的 飞行体验!游客更可直闯地心、飞驰亚马逊丛林、跳进峡谷漂流探险,或者品尝滑冰的乐趣!如此缤纷丰富的海、陆、空旅程,必然让每个游客感受到大千世界的精彩!
It aims at achievements of human civilization and promotion of world culture. As the first brand of Chinese cultural theme park, Window of The World in Shenzhen not only includes more than 130 places of historic interest and scenic beauty, the ethnic customs performance in the whole world, showing the essence and cultures from different countries as well as the exotic folk customs, but also brings the dynamic trend and the most rich and colorful "World tour" to tourists with more stylish entertainment elements.
深圳锦绣中华发展有限公司
Shenzhen Splendid China & China Folk Culture Villages

作为中国主题公园的开山之作,锦绣中华在多年的经营和管理中,以"弘扬中国民族文化,创建世界一流景区"为主旨,以"坚持高尚品质,坚持民族特色,坚持创 新发展"为原则,通过不懈努力,探索出一条具有中国特色的旅游经营之路,在旅游文化和旅游管理等方面创造了一系列令人瞩目的"锦绣中华"现象,赢得了国内 外各界人士的一致赞誉。
It is the first theme park in china, and it's still focusing on spreading Chinese culture and being the world class scenic spot throughout the management. Shenzhen Splendid China & China Folk Culture Villages insist on creating a Chinese styled management team and make the theme park a real wild china.
深圳市地王深港之窗投资发展有限公司
Shenzhen DI WANG SHEN GANG ZHI CHUANG Inc.

"地王观光•深港之窗" 位于深圳市最高的标志性黄金建筑--地王大厦顶层69层(楼高384米),是亚洲第一高层主题观光旅游景点。 伴着悠扬的乐曲乘上电梯,只需五十秒,便可到达384米高的地王大厦69楼最顶层,景区内有新奇刺激的多维动感电影、纪实性的数码叠化幻灯投影纪录片及十五个趣味景观。
DIWANG Sightseeing-the Window between Shenzhen and Hongkong is on the 69th floor in DIWANG Building and the highest themed tourist attractions in Asia. It only takes you 50 seconds to get to the top of the building by elevator, and you will be surrounded by more than 15 amazing attractions.
深圳野生动物园有限公司
SAFARI PARK SHENZHEN
深圳市野生动物园是中国第一家放养式的野生动物园,建于山清水秀的深圳西丽湖畔,占地面积60多万平方米,这是一个引人入胜的神奇地方。园内奇异多姿的飞禽走兽,幽雅恬静的自然环境,布局独特的园林设计,在国内都是首创的!斥资八百万元打造的全球首个5D影视剧场——交互式动物卡通电影《非常狮虎兽》,集休闲娱乐、个人才艺展示为一体,带给游客全新的感受。
Shenzhen Safari Zoo is the first free-ranging zoo in China which is close to Xili Lake and covering an area of about 600000m2. Inside, kinds of wild animals live in the works of god. In addition,cost 8 million RMB, the world advanced 5D show the Liger was created here to shock every visitor.
深圳特发小梅沙旅游中心
Shenzhen Xiao Meisha Tourist Center

旅游中心创建于一九八四年,总占地面积3.58平方公里,其中海域面积1.3平方公里。其中有著名的小梅沙海洋世界,首期投资3.6亿元,共有七大海洋主题展馆;小梅沙大酒店,游客可体验 "临窗观海、枕涛入眠"的浪漫,还可享受高雅别致的咖啡廊、西餐厅、大堂酒吧以及室外淡水游泳池、网球、桑拿、美容、健身、英式台球等系列康乐项目;小梅沙渡假村沙滩娱乐项目丰富,主要有:浴场游泳、沙滩烧烤、拓展训练、水上摩托艇、天空滑翔机、海底潜水等。夏日小梅沙更是轻歌曼舞,欢声笑语,充满无限生机和魅力!
The tourist center was founded in 1984. The famous Xiao Meisha Ocean World is located in this center. The Xiao Meisha Hotel is just by the sea coast where the tourist can enjoy their vocation in coffee bars, swimming pools and all kinds of wellness entertainment. The Xiao Meisha Resort is famous for its beach entertainment such as diving, motorboat, glider and etc. Especially in summer, everything is full of vigour here.
深圳青青观光农场有限公司
Shenzhen Ever Green Inc.

青青世界位于深圳市南山区月亮湾,大南山山麓,是深圳市著名的精致农业与观光旅游相结合的生态旅游景点,"鹏城十景"之一。在这里你可以感受具有"地球之肺"之称的热带雨林、富有动感的环保打击乐,参观凶猛而又美丽的亚马逊河鱼类展、蝴蝶农场里翩翩起舞的蝴蝶,瓜果公园的奇瓜 异果,花卉超市里千姿百态的花卉,或让你的小孩在我们的"森林课堂"听上几节课,让生动的实物、立体的画卷唤醒原本沉睡于书本的知识,探秘神奇的生态世界。游览之余,你可以选择在我们的山林木屋或树上旅馆"借"宿一晚,在田园餐厅享受自耕自种的田园美食,或在红房子西餐厅的乡村酒吧喝一杯浓香的自磨咖啡。同 时,青青世界还提供供游客参与的活动项目,如制陶、钓鱼、自耕自种农夫田、捞金鱼、抓泥鳅等等。让游客真正融入大自然、体会田园之乐。
The Ever Green Resort is located in Moon Bay Shenzhen and it's famously scenic spot, with interesting vegetation, and is a member of the Ten Major Attractions of Shenzhen. Based on firm principles of health, nature, environmental protection, family, honesty, respect for work, helpfulness, and kindness, the staff of Evergreen Resort have made every effort to establish a scenic spot for enjoyment of leisure, nature, healthy activities, environmental protection, culture, art, and wholesome family activities. Activity choices include pottery making, fishing, games, viewing of unusual works of art, dipping for goldfish, and many others. All these activities are enjoyed in close contact to nature, field, and garden.
深圳市南方大澳酒店有限公司
Shenzhen Southern Da Ao Hotels Inc.

南方大澳酒店,位于中国最美八大海岸之一的大鹏半岛金沙湾旅游度假区,与香港平洲岛隔海相望。从酒店主楼和别墅楼均可直接步入水清沙幼、海天一线的大澳湾海滩。酒主楼海景中餐厅由名厨主理,可品尝各式海鲜和当地特色菜肴。海边贝壳形广场可举办全海景露天鸡尾酒会、浪漫婚礼和各类庆典。在这里,您将远离 都市喧嚣,亲近自然谐和,享受明媚阳光、清新空气,领略蓝天、白云、沙滩、海浪的诗情画意,感悟"同山海相携,与自然共融的天然美感。
Located in one of the most Beautiful Coast in China, Daao Hotel is just beyond Hongkong. From the hotel, we can walk into the Daao Bay Coast enjoying delicious sea food, having a cocktail party and doing anything relaxing. Far away from the fast pace city center, visitors can enjoy their time with the Earth.
深圳欢乐谷
Shenzhen Happy Valley

深圳欢乐谷是华侨城集团新一代大型主题乐园,首批国家AAAAA级旅游景区,占地面积35万平方米,总投资20亿元人民币,是 一座融参与性、观赏性、娱乐性、趣味性于一体的中国现代主题乐园。1998年开业以来,深圳欢乐谷经过五期的滚动发展,已成为国内投资规模最大、设施最先 进的现代主题乐园。开业十七年来,深圳欢乐谷共接待海内外游客超过4000万人次,连续8年傲居国内第一,并连续四年荣膺亚太十大主题公园。作为中国主题公园行业的领跑者,深圳欢乐谷也将在今后的发展中进一步与时俱进,大力发展文化旅游产业,打造信息化智慧景区,为中国主题公园的发展再立新标。
Shenzhen Happy Valley is a latest mega theme park developed OCT covering an area of 0.35 million square meters, and it's a theme park with participation, ornamental, entertainment and interest. From 1998, Shenzhen Happy Valley has gone through 5 expansions, and finally became one of the largest leading-edge modern theme parks. In 17 years, 40 million visitors from all parts of the world have been received. As one of the leading company, Shenzhen Happy Valley will manage to make a new standard for China theme parks by keeping pace with times, improving culture tourism industry and forging a smart scenic spot with information technologies.
珠海横琴长隆国际海洋度假区
Chimelong International Ocean Tourist Resort

珠海横琴长隆国际海洋度假区由广东长隆集团投资兴建,首期总投资超过200亿元人民币,地处与澳门近在咫尺的中国国家级开放新区——横琴新区,其应用国际 先进技术和经验,自主创新,并采用最顶尖的科技设备、最顶级的设计和最完善的管理,全力打造一个世界级超大型综合主题旅游度假区。2014年3月29日, 珠海长隆国际海洋度假区三大首期项目已正式对外开放。
In January 2014, the first phase of Zhuhai Chimelong International Ocean Resort, including Zhuhai Chimelong Ocean Kingdom, Zhuhai Chimelong Hengqin Bay Hotel and Zhuhai Chimelong International Circus City, was completed and opened to the public. Having attracted more than 500,000 visitors during the 2014 Spring Festival, the 3 projects under Zhuhai Chimelong International Ocean Tourist Resort was an industry miracle.
第四届亚洲主题公园与度假区高层论坛中,最激动人心的环节之一:TEA Panel, 将由来自TEA的行业专家为大家带来第一线的最新行业情报与分析!
During the 4th Annual Theme Park & Resorts Asia Congress, TEA Panel will be one of the most amazing sectors, in which the experts of TEA will bring us the latest news and analysis of the industry.

吉井贵司 Chris Yoshii
吉井贵司先生在休闲文化领域已久有了25年的经验,包括市场分析、财务分析、经济影响评估、管理规划及投资分析等。除了想政府、商界、事业单位、公共机构和私营业主提供经济规划方面的专业建议和策略指导外,更监督并带头实施多项项目研究工作,包括:新城规划、小区看、规划、都市更新、度假区开发、休闲旅游规划、产业研究、投资咨询及综合项目的经济和财务可行性研究等。他从事的项目大部分位于亚洲,其中以中国为主,吉井先生致力于确保项目总体开发与规划设计的经济可行性分析工作。
Mr. Chris Yoshii is the Global Director of Economics, DE+E, Asia .Over the past 25 years, Chris has overseen and spearheaded studies that encompass Destination Resorts Development, Hospitality, Leisure & Tourism Planning, New Town & District Planning, Urban Regeneration, Industrial Analysis, Business Planning, Investment Consulting and the Economics and Financial Feasibility of mixed-use urban projects. These projects often entail market analysis, programming, financial analysis, economic impact analysis, management planning & investment analysis.

Christian Aaen

Mr. Aaen 在主题游乐与文化发展项目上有着非常丰富的经验。他为世界各地的景点与园区提供咨询服务。环球影城、乐高世界、美高梅、威秀影城、马来西亚国库控股、三丽欧、华侨城集团、香港海洋公园、HIT娱乐、新加坡旅游信息中心等等的项目咨询与可行性分析都由Mr.Aaen 亲自操刀。Mr.Aaen在亚洲所涉及的项目遍及中国,香港,澳门,新加坡,马来西亚,韩国,越南,印度,泰国,等地。

Mr. Aaen has participated in a broad range of themed entertainment facilities and cultural development projects worldwide. Mr. Aaen brings a wide background of experience to ECA's assignments through his involvement in a variety of consulting assignments in the recreation area as well as his direct strategic planning experience in international attraction, theme park and cultural development. Mr. Aaen has consulted for clients in Asia, Australia, Europe, Middle East, Mexico and Latin America and throughout North America. Mr. Aaen has conducted feasibility studies and provided advisory services for key international clients such as Universal Studios, LEGOLAND Parks (Merlin Entertainments), MGM Studios, Village Roadshow, Khazanah Nasional/TAR, Sanrio, HIT Entertainment, OCT Group, Ocean Park (Hong Kong), KidZania, Singapore Tourism Board (STB), Genting Group, among others. Mr. Aaen has extensive experience throughout Asia with projects in China, Hong Kong, Macau, Singapore, Malaysia, Korea, Vietnam, India, and Thailand, among others.

Ken Wheatley
Mr. Wheatley 是科视显示系统和解决方案的亚洲区域责人,并专注于激光投影设备和临场感娱乐设备。Mr. Wheatley为印度莫迪竞选的主办方与设计团队提供了技术支持;参与了珠海长隆的设备安装与调试;为丽水世博会多个展馆的设备支持,包括获奖的"Big O"。另外,他还支持了负责缅甸东南亚运动会开闭幕式的效果团队,当然还有很多有趣又富有挑战的工程!
Mr. Wheatley is in charge of Christie's products display systems and solutions for Christie Digital, covering all of the Asia territory, specifically focusing on the entertainment and LBE sector. Recent notable projects included supporting the integrators, designers, and users for the India Modi election campaign, some cool installations for Chimelong Zhuhai, the Yeosu Expo covering several pavilions, including the award winning "Big O". Other interesting jobs, he recently supported teams on include the Myanmar SEA Games open/closing ceremonies, the India Lusifony (Goa) Games opening ceremony, and other fun stuff

Jonathan Douglas (VOA)
乔纳森负责主管全球各地的许多大型项目。他目前是奥兰多办公室的主管,并致力于酒店项目的规划和设计,文化娱乐,商业+混合使用,政府,医疗+质子束疗法,和企业内部市场。
乔纳森的设计表现在"体验哲学",这会吸引顾客主动参与活动。他认为,围绕主题和信息讲一个故事才能更好地设计出一个让顾客流连忘返的主题体验。
Jonathan is Principal-in-Charge on many large-scale projects across the globe. In his current role of Managing Principal at our Orlando office, he specializes in the design and planning of projects in the Hospitality, Cultural + Entertainment, Commercial + Mixed-use, Government, Healthcare + Proton Beam Therapy, and Corporate Interiors markets.
Jonathan's design approach speaks to the experiential philosophy that visitors and guests today want to be informed and entertained. He believes that by focusing on themes and messages that "tell a story," the better able we are to design a great hospitality experience that translates to bigger and wider appeal and lasting memories.
论坛嘉宾(部分)
Our Speakers:
Alan Mahony,新昌营造集团有限公司设备总监


从1980年开始Mahony先生先后操刀了数座世界级水上公园与主题公园。他始终亲临现场,注重每一丝细节,发挥出他异人的天赋。Mahony先生的项目获奖无数,并且依然在这竞争激烈的市场环境下保持盈利。

Alan Mahony, Director of Facility Management, Hsin Chong Property
Alan Hahony has been a specialist in the design management,
launching and operations of numerous world class theme parks and water parks since the mid 1980's. Thanks to his unique talents, experience, hands-on approach and attention to detail, the businesses he has been involved with have won numerous awards for excellence and still trade profitably in todat's demanding tourism and leisure industry.
徐维东,中航工业国际控股公司地产事业部部长


徐维东先生自2010年起开始负责航空大世界项目的策划和研究工作。在去年的大会上,为嘉宾首次带来了中航国际航空大世界项目的规划展示。此次,徐部长将再次亲临现场,分享航空大世界项目的最新进展情况!

Xu Weidong, Minister Real estate division, AVIC INTL
Mr. Xu has engaged in Aviation World Project since 2010. Last year, in TPRW 2014,
AVIC Aviation World debuted with its concept and planning. This year, we are ready to learn more about the latest updates of AVIC Aviation World.
王晓,AECOM中国区经济规划副总监


王晓先生拥有政府旅游局、国家级旅游度假区、大型主题公园/旅游集团、跨国咨询公司的多元背景和工作经验,业务领域涵盖市场营销和产品规划,近年来致力于综合度假区和混合商业中的主题娱乐开发。

Wang Xiao, Vice Director of Economic Planning, AECOM China
Wang Xiao has worked in traveling bureau, national resorts, theme parks and
international consulting companies. With his diversified working experience, Wang Xiao devotes himself to themed entertainment consulting in integrated resorts and mixed business units.
郑虎,上海美术电影制片厂副厂长


上海美术电影制片厂成立于1957年,是中国惟一生产美术影片的专业制片厂和规模最大的美术电影制片基地。美影厂拍摄了《大闹天宫》、《牧笛》、《三个和尚》、《宝莲灯》等大量优秀作品,曾荣获中国电影金鸡奖、华表奖、"五个一工程"奖、童牛奖和丹麦欧登塞童话电影节金质奖、柏林国际电影节银熊奖等200多个奖项,并首创了水墨动画片、折纸片等片种,在国际美术电影界享有盛誉。本次大会特邀上海美术电影制片厂副厂长郑虎先生,为我们讲述如何重现经典,如何最大化挖掘并释放知识产权资源的价值。


Zheng Hu, Vice President, Shanghai Animation Film Studio.
Shanghai Animation Film Studio was established in 1957 as the only professional studio in animation products and the largest animation base. The Monkey King caused havoc in Heaven, Reed, Three Monks, The Lotus Lantern and etc. were all made by Shanghai Animation Film Studio, which won a lot of international awards. In addition, Ink Animation and Paper Folding Animation were all created here. We respectfully invited Zheng Hu, Vice President of Shanghai Animation Film Studio, to show us how can we rebuild our classics and make the IPs valuable.
杨蕾,梦东方文化投资有限公司执行总裁


梦东方属天洋集团旗下,致力于传播中国文化。在主题公园方面,用互联网思维颠覆行业原有模式,做全世界最好的主题公园;在好莱坞设立梦东方电影公司,创造受世界欢迎的、属于中国人自己的知识产权。杨蕾先生将亲自向我们展示梦东方文化产业的创新发展之路。

Yang Lei, CEO , Dream East Culture Investment Inc.
DreamEast: the proprietary cultural and entertainment brand of China. Having the
Chinese cultural as the keynote and our proprietary intellectual properties as the core, we aim to develop the cultural industry of China from a global perspective and connect the world together and spread love, joy and positive energies across the world with the five-thousand-year history of China. Mr. Yang will show us how Dream East grows with IP and culture.
黄玉梅,BBC Worldwide 亚洲区消费品授权总监


黄玉梅女士将会为大家分享CBeebies Edutainment Centre的最新项目进展,CBeebie作为BBC专为学龄前儿童所打造的频道自从开播以来就收到英国当地家长与儿童的厚爱。CBeebies Edutainment Centre将如何结合频道特有元素,为中国消费者带来寓教于乐的游乐体验?让我们拭目以待

Maggie Wang, Director, Consumer Products Asia BBC Worldwide

Maggie joined BBC Worldwide Asia in 2006, and she heads up its consumer products and live events business across Asia. BBC Earth, Top Gear, CBeebies and Walking With Dinosaurs are Key brands of BBC. Maggie will show us the latest concept of CBeebies Edutainment Centre and explain edutainment to us. Let's go and see.
赵全泽,必维国际检验集团大中华区-大型及特殊建筑项目管理部经理


赵全泽先生,现任必维国际检验集团大中华区-大型及特殊建筑项目管理部经理,上海国际主题乐园项目总监 。拥有17年丰富的国内外特大型项目管理经验。在上海2010世博会筹备及运营期间, 受法国政府委派, 先后担任法国参展局技术总监, 法国馆副馆长,并荣获"上海世博工作优秀个人", 2009-2011年"全国青年岗位能手"称号。目前,其负责的部门核心成员包括:20多名国际主题乐园项目管理领域的顶尖级国内外专家, 以及100多名拥有丰富管理经验的业内技术骨干

Victor Zhao, Manager of Large & Special Project Management Business Unit, Construction Business Line, Bureau Veritas Greater China

Victor Zhao, works as Manager of Large & Special Project Management Business Unit, Construction Business Line, Bureau Veritas Greater China, and Project Director of Shanghai Internal Themed Park Project served by Bureau Veritas. His experience in project management of large & special projects in domestic and overseas extends back over 17 years. In the interim of Shanghai 2010 Expo French Pavilion construction and operation phases, he was appointed directly by French Government to serve as technical director and deputy pavilion director successively. At present, he manages the Large & Special Project Management Business Unit with a core team of 10+ top international and domestic experts and 100+ technical professionals specified in international theme park project management field. And thanks to the distinguished performance in the field.
饶卫华 广大律师事务所 合伙人


主要集中于著作权、商标、专利、不正当竞争、网络、电信、广播电影电视、 文化产业等领域知识产权法律服务。长期担任中国电信广东分公司、天翼爱音乐 文化科技有限公司、广东珠江电影集团有限公司、中视传媒股份有限公司等大型 企业知识产权法律顾问,在计算机软件、信息网络传播及通信法律等知识产权领 域积累了丰富的经验。

Rao Weihua, GUANGDA LAW FIRM

Mr.Rao is a specialist in the legal service of copyright, trademark, patent, unfair competition, network, telecommunications, radio and tv, and intellectual property and culture industry. He is very experienced in IPs including PC software, information network dissemination, communication law and etc.
部分最新主题公园项目
Some of the latest projects
项目名称
Project

项目进展
Progress

投资(元)/规模
Investment(CNY)/Scale

所属集团
Developer

世茂梦工厂
SHIMAO DREAM WORKS
500亿
50 billion
世茂集团
SHIMAO Group
海口环球100影视主题公园
Global 100 Theme Park
2013年10月开工, 2016年10月试运营
Trial operation in 10,2016
436亿/7000亩
43.6 billion/4.67km²
长影集团
ChangYing Group
重庆欢乐谷
Chongqing Happy Vally
2017年暑假开园
Open in 2017
超过50亿/800亩
Over 5 billion/0.53km²
华侨城集团
OCT
航空大世界
Aviation World
西安阎良建设中
Under construction
200亿/8019亩
20 billion/5.346km²
中航国际
AVIC International
青岛海上嘉年华
Qingdao Sea Carnival
2015年夏季试运营
Trial operation in Summer,2015
80亿/76万平米
8 billion/0.76km²
香港嘉年华国际控股
CARNIVAL GROUP INTERNATIONAL
永泰世界室内主题乐
园 EONTIME Indoor Theme Park
2015年开业
Open in 2015
15亿/30000平方米
1.5 billion/0.03km²
永泰地产
EONTIME
安吉乐翻天嬉水王国
Anji Mega Fun Water Park
2015年7月开园
Open in 7,2015
3.1亿/300余亩
0.3 billion/0.2km²
乐翻天投资集团
MEGA FUN Investment
华强二期"东方神画"
Oriental Painting
地面工程基本完成,主题结构施工中
Under construction
20亿/30万平方米
2 billion/0.3km²
华强文化科技集团
FANTAWILD HOLDINGS
美高梅中国假期
MGM China Holiday
首期文化休闲项目将于2017年建成开业
Open in 2017
300亿
30 billion
美高梅
MGM
星际未来城
Star.The City of the future
2017年中旬建成投用
Open in 2017
30亿/1500亩
3 billion/1km²
国投通汇基金 中域财众
GUOTOUTONGHUI
上海乐高探索中心
Shanghai Lego Discovery Center
2016年春建成
Open in Spring ,2016
默林集团
Merlin Entertainment
上海极地海洋世界
Shanghai Polar Ocean World
2017年底运营
Trial operation in 2017
19万平方米
0.19 km²
海昌控股有限公司
Hai Chang Holdings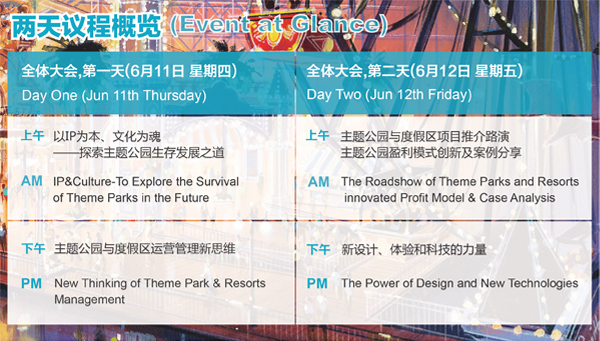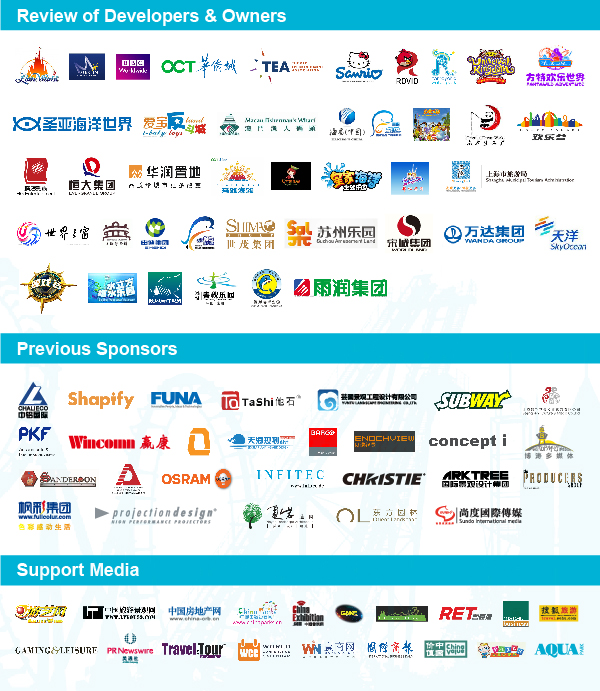 | Register Now | | |
| --- | --- | --- |