Video of 2012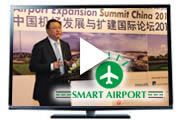 Get Event Brochure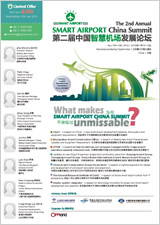 Registration
Media Partners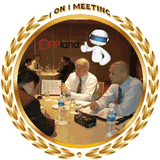 Why This Event?
China is seeing an airport construction boom driven by central and local governments, eager to stimulate economic growth. In 2012 alone, the National Development & Reform Commission (NDRC) of China approved 24 projects to build new airports, and the country plans to build 82 new airports and expand 101 existing ones between 2011 and 2015, with an estimated investment of around CNY 100 billion (USD 15.9 billion).
According to sources from NDRC of Beijing, the preparatory work for Beijing new international airport at Daxing, which plans to handle 130 million passengers a year, will be concluded at the end of this year, and construction work will be started at the beginning of 2014.
Airports are embracing smart and green trends in facility design and construction, integrating the idea of SMART AIRPORT into every step of the planning and design process is not only desirable, it has become essential.
With 250 airport industry stakeholders gathering together, the 2nd Annual Airport Expansion China Summit will be leading you to exploring the business opportunities in China's airport development boom, as well as covering hot topics such as smart airport design & development, sustainable green airports, airport security and airport IT as well as automation.
会议背景
中国正在迎来新一轮的机场建设的繁荣期。仅在2012年,国家发改委已批准建设24个新机场项目,"十二五"期间计划建设82个新机场,101个机场进行改扩建,总投资额将达4250亿人民币(675亿美元)。从北京市发改委的有关人士获悉,北京新机场的前期筹备工作将于今年年底完成,并于2014年初正式开工建设,预计乘客吞吐量将达到13000万人次。
绿色和智慧已成为未来机场的两大发展趋势。在机场项目设计、建设和运营管理的每一个环节中贯彻智慧机场的理念,不仅仅是口号,而是势在必行。
第二届中国智慧机场发展论坛将带领您在中国机场发展的高峰期开拓商机,由世界范围内的250家机场行业领袖汇聚一堂,讨论智慧机场的设计与发展,可持续发展的绿色机场,机场安全,信息化与自动化等热点话题。
第二届中国智慧机场发展论坛期待您的加入!
What makes SMART AIRPORT CHINA SUMMIT unmissable?
● CAAC's speech on China's new-build airport development pipelines, future plans and
equipment requirements;
● Beijing New Airport Construction Office's speech on Beijing New Airport Development
Updates and Equipment Requirement;
● ATMB's speech on how to optimize civil airspace management for mega airport operation
capacity enhancement;
● Updates on new Airport Expansion project and construction plans from Xinjiang Airport Group,
Chongqing Airport Group, Tianjin Binhai International Airport, Hunan Airport Group etc;
● China Airport Construction Group Corporation's speech on optimal approach for design
and development of civil airport renovation and expansion;
● The Second Research Institute of CAAC's speech on future smart airport outlook from IT
perspective;
● Master system integrator's speech on technology Innovation for green and smart airport
development and operation
为何本次会议不容错过?
● 民航局关于中国新建机场发展规划和设备需求的演讲
● 北京新机场建设指挥部更新北京新机场进展与设备需求
● 空管局讲解如何通过优化民用空域管理增强大型机场运营能力
● 新疆机场集团,重庆机场集团,天津滨海机场,湖南机场集团等带来最新机场改扩建项目和建设情况更新
● 中国机场建设集团公司与您讨论关于民用机场改扩建设计与发展的最佳解决方案
● 民航二所从信息化角度对于未来智慧机场的展望
● 系统集成商关于绿色与智慧机场发展与运营的技术创新的发言