Why this event?
India's XII Plan proposals envisage nuclear energy to be its best option to meet a growing need for power. It has been indicated by statistical data that in India currently there are 7 nuclear reactors under construction,
and 60 more reactors are planned and firmly proposed. To meet this target, the government has announced investments of USD 77 billion in new nuclear power plants between 2010 and 2020.
The Fukushima incident has awaken the world attention towards nuclear safety and new technologies innovation in nuclear power plant construction and operation. India has highlighted the enforcement of security regulation since after. On July 18, 2011, India went ahead and commenced the construction of the country's 25th nuclear power plant at Rawatbhata in the state of Rajasthan.
The international cooperation is an important dimension of India's nuclear industry. The NSG waiver in 2008 ended India's nuclear apartheid. After assuring international cooperation with a round of civil nuclear deals subsequently, India is keen to fast-track a significant expansion of its nuclear program. Foreign technology and fuels are expected to considerably boost India's ambitious nuclear power plans. Nuclear Tech India 2013 will deliver the main nuclear advanced technologies for India's energy challenges, whilst providing the most up-to-date progress reports on major projects across India.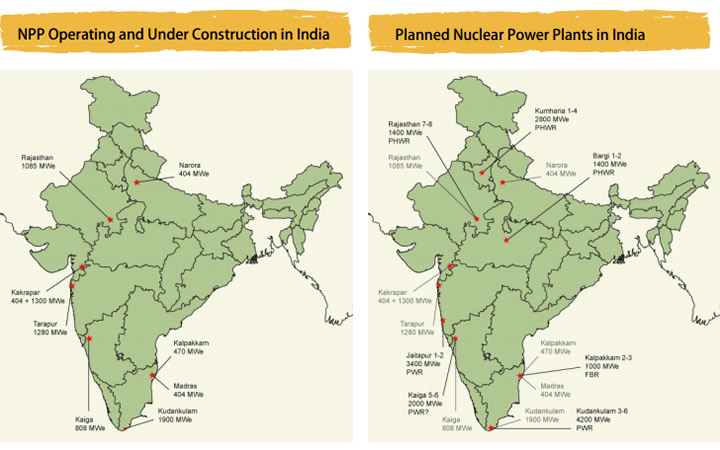 8 Reasons to attend
Here are 8 reasons why you cannot afford to miss Nuclear Tech India 2013
Technologies, technologies and more technologies
Hear from over 35 industry leaders as the they discuss their solutions to the pressing issues in the nuclear industry
India's story
Get the inside story on current and future activity on Indian nuclear power programs
Policy and law
Get the latest policy and issued related to Indian civil nuclear liability law
Get smart
Understand the essential of smart technology and lessons learned from mature market
Best ROI
Learn how to successfully build your revenue from this prominent market
Build your brand
Key prospects to ensure a best possible branding,generate leads & set up key meetings to secure
business
Go efficient & safe
Listen to unique insights from experts in the field onhow to increase efficiency whistle keep safety
Meeting the right people
Coffee and networking break, think tank discussion and two full conference days give you maximum time to network with the eminent professional of this industry
Do not miss out on India's premier nuclear technology conference:
Do not miss out on India's premier nuclear technology conference
Do you want to hear the policy & plan of India's nuclear energy? Do you want to hear the issues related to Indian Civil Nuclear Liability Law? And most important : Do you want to know the technology roadmap for India's NPP design and construction? Do you want to know the solutions for the main technology challenges of India's nuclear industy? Do you want to know how to incorporate smart technology and improve the efficiency and safety of NPP in India? Do you want to hear from the biggest and most innovative projects? Then read on…
What makes Nuclear Tech India 2013 India's must-attend nuclear event? We bring together high-level executives from India and internationally to discuss the biggest projects, the most pressing issues, and the greatest opportunities in India's nuclear sector.
With over 35 industry leaders speaking you'll hear:
Understanding the right picture for the implementation of India's ambitious nuclear power plans
Technology roadmap for India's NPP design and construction
Fostering international cooperation to accelerate nuclear power growth in India
Market strategy for foreign nuclear technologies to penetrate into India's nuclear industry
NPP new build case studies from India and Southeast Asia
Given high indigenous engineering content, where is the right niche market in India's nuclear engineering industry for international EPC companies?
Export Nuclear Fuel to India: Projection on fuel demand, supply chain risks as well as waste management challenges
Standardized design and engineering practices for the Nuclear Power Plants in India
modern seismic protection strategies for nuclear power plants in South Asia
Evolving safety policies and regulations to ensure Nuclear Power Plants safety and security
Long Term Operation and maintenance of NPPs in India: Present and future
Safety enhancement against external hazard in NPP design and siting- lesson learnt from mature markets
This event will lead the way in guiding the direction of India's nuclear industry. With a focus on the main nuclear advanced technologies for India's energy challenges, Nuclear Tech India 2013 is the place to network, generate business and expand you knowledge. Do not get left behind. Be a part of putting India at the forefront of the world's leading nuclear system and register to attend now!
Organizor

Supported by

Adviser Board

Sponsor



Media Partner