Get Event Brochure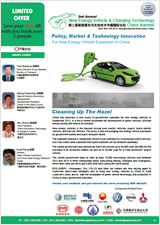 Inviting Companies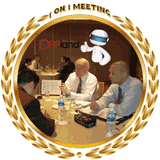 Cleaning Up The Haze!
China has launched a new round of government subsidies for new energy vehicles in September 2013, in a bid to further accelerate the development of green vehicles, promote energy saving and reduce air pollution.
New energy vehicles in the renewal include pure electric vehicles, plug-in hybrid electric vehicles, and fuel-cell vehicles. The policy is also encouraging new energy vehicle purchases by government bodies and public transport sector.
The subsidies renewal in September did not cover subsidies for conventional hybrid vehicles,
but it has widely been expected that hybrid subsidies will be released separately.
The central government also announces that it will provide up to 60,000 yuan ($9,800) for the purchase of an all-electric battery car and up to 35,000 yuan for a "near all-electric" plug-in vehicle.
The central government plans to have at least 10,000 new-energy vehicles sold between 2013 and 2015 in three metropolitan areas surrounding Beijing, Shanghai and Guangzhou, while other cities are set to get 5,000 units each during the same period.
BYD,CHERY, Volkswagen, GM, VOLVO and other car makers are now rallying again to implement tailor-made strategies and to bring new energy vehicles to China to meet customer's need, and to start the localization of green vehicle technology and production in China to enjoy government subsidies.
Why this event:
Chinese government and auto makers are pushing hard to achieve countrywide mass adoption of electric vehicles. The Ministry Of Industry And Information Technology announced that there will be at least 500 thousand pure EV and PHEV on road by the end of 2015. And in 2020, the number will reach 5 million. Experts estimate that, within 10 years, China will become the biggest new energy vehicles market.
To support new energy vehicle introduction in China, SGCC, China's largest power grid state company plans to build a total of 2,351 EV charging facilities and battery-swap stations, and 220,000 charging poles to meet the growing needs of the EV industry in the next five years.
However, there are clouds remains that might be shading the seemingly bright and promising future, including poor charging infrastructure roll-out, divided technology standards, immaturity of HEV technology for commercial-scale production, uncertainty of subsidy policy and business model challenges etc.
The 2nd annual New Energy Vehicle and Charging Technology China Summit 2014 will gather auto OEMs, electricity utilities, governments, battery developers, standardization bodies, consultants and technological solution providers together to share visions and insights on how to interpret China's New Subsidy Policy, share car maker's NEV production roadmap and strategy as well as share latest battery, charging and power-train technologies.
The Congress will focus on:
China's roadmap for new-energy vehicle (NEV) market application after third plenary session of the 18th central committee of the chinese communist party
China's Investment plan on modernising China new-energy vehicle market and opportunities for global OEM stakeholders
China's financial subsidy from the government to OEM updates
Briefs on China's major NEV pilot projects in the next years
Introductions of New NEV technologies used EV, HEV and other pulic vehicle
New battery concepts and technologies to realize next generation NEV in China
Hamonised Development between electricity infrastructure and Vehicle OEM in China
BMS based precise management for China's NEV growth
Implementation requirements and planning for EV, HEV and NEV fleet in China
To unified the different standards with OEM, government and suppliers