Get Event Brochure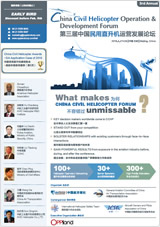 Media Partners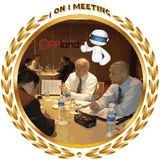 Do Not Miss Out on China's largest civil helicopter summit!
The Greater China civil helicopter fleet continued to grow strongly in 2014 at a high rate of 29% - the highest growth rate in all of the Asia Pacific region – rising from 506 in year-end 2013 to 655 at year-end 2014. Out of these, 583 are based in Mainland China, 41 are in Taiwan, 30 are in Hong Kong and 1 is in Macau.
With the opening of airspace and infrastructure continues to develop, the demand for helicopters in the Greater China region will continue to surge. On Nov. 23rd, 2015,the Government Council formally announced: Actively establish a new consumer guide, the file shows government would like to open low-altitude airspace positively, solve the system obstacle of the development of industry to make general aviation becoming increasingly prevalent in traditional high-end consumption.
A banquet for civil helicopter industry in China. In this unique occasion, you can capitalize on the fast expanding helicopter opportunities in China, strengthen your leadership branding, gain visibility, increase market awareness, demonstrate your product value proposition and develop partnerships with key prospects.
Event Structure At A Glance
Helicopter Night
Awards & Cocktail
The ultimate industry accolade
The Helicopter Night are the most hotly anticipated event in the conference's calendar, recognizing and rewarding companies who has the most outstanding contributions and best practice in helicopter business. Judged by some of the industry's biggest names, the Awards look to reward creativity, quality and originality.

奖项设置
直升机海上平台运营之星 / 直升机紧急救援之星 /直升机机场之星 / 直升机租赁之星 / 直升机保险保障之星 / 直升机引擎之星 / 直升机航电技术创新之星 ...
评选流程
奖项评审提交要素:飞行任务与目的 - 飞行计划和执行管理 - 社会效益与经验总结 (资料准备为短文1000字以内A4格式文档
请相关意向通航企业在3月30日之前把资料发送给组委会或致电询问。
获奖单位
请获奖单位在4月12日之前将公司名及logo发至组委会,并提供5-7分钟案例分享材料,用于颁奖仪式的汇报展示。
活动时间
2016年4月 27日17:00-18:30