Get Event Brochure
Registration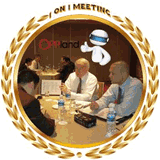 Why This Event?
China will build 70 new airports and expand 100 existing airports within the next three years. The air traffic volume is also expected to grow 10-15% per year over the next ten years. This surging demand will greatly boost required investment in China's ATM system and provide numerous opportunities for global ATM stakeholders.
To cope with intense pressure from growth, China urges the development and application of new ATC technologies and the construction of a number of key ATC projects to improve its operational efficiency and service capacity.
ATC China 2013 is the unique and premier business occasion in China to gather ATM professionals from all major sectors together for business collaboration and industry knowledge sharing.
Fasten your seatbelt, and get onboard the most promising ATM Market!
The Congress will focus on:
China's roadmap for airspace open-up and ATM management reform
China's Investment plan on modernising China ATC and opportunities for global ATM stakeholders
Briefs on China's major ATC projects in next 5 years
Introductions of New ATC technologies used in hub and regional airports in China
New ATC concepts and technologies to realize next generation ATM in China
Hamonised Development between General Aviation and Airspace management Reform in China
Satellite based precise naviation for China Civil Aviation
Implementation requirements and planning for PBN, HUD, ADS-B,EVS,EFS in China ATC
China's BeiDou Navigation Satellite System in future global civil aviation
Oppland's Aviation Series Category: