Get Event Brochure
Registration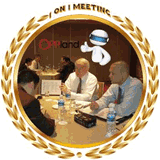 Media
Any enquiries about media cooperation, please contact:
Ms. Echo SUN
Tel: +86 21 5058 9600
Fax: +86 21 5058 5987
Email: echos@opplandcorp.com

In the ATC Network you can find the latest ATC Industry news and developments. This information is updated on a daily basis. Also, product showcases, articles, information on upcoming industry events and courses. There is a Who's who directory where professionals can list their areas of expertise, achievements and publications. The Tenders Information Service publishes timely information on world wide tenders in the ATM industry. Also you can find the company and product database which is searchable on country and area of activity. The Network sends out a free bi-monthly newsletter to all its subscribers which details all the latest additions to the network.
http://www.atc-network.com/

Avionics Magazinecovers all segments of the worldwide aviation electronics industry, including commercial transport, military, corporate aircraft, helicopter and general aviation. The magazine reports on technical, business and regulatory developments in all areas of avionics, including satellite navigation and positioning, airborne systems, ground navigation aids, air traffic control and management, and test and maintenance. For more information visit our website at www.aviationtoday.com/av/

bomberger,
Momberger Airport Information is the independent source of information for airport professionals around the world, published biweekly since 1973. It provides unbiased news free of advertising. The newsletter is published in a modular format that allows subscribers to put together their own newsletter package that matches their professional interest in the airport industry.
Find out more at: www.mombergerairport.info


Airport Suppliers is the global airport industry's number one meeting place for Operators, Vendors, Airlines, Authorities, Architects, Ground Handlers, Consultants and System integrators. The portal encompasses all aspects of airport equipment, technology, design and services.
We provide a comprehensive breakdown of products and services from leading industry contractors, with up-to-date news and press releases when exciting developments occur. With links to the most important airport related organisations and governing bodies in the world.
www.airport-suppliers.com

The State Aviation Journal e-magazine, website and weekly brief is committed to reporting on the positive contributions of state aviation in the fifty states and territories; stories of life, of adventure, of struggles and of a strong commitment to preserving both our heritage and the future of aviation and aerospace globally.
Although the Journal's primary focus is on state aviation officials, their programs, customers and partners in aviation, we believe there is a much broader circle of readers in the industry that will enjoy and find value in our updates and e-publication
http://www.stateaviationjournal.com/

http://www.internationalairportreview.com/
International Airport Review magazine is the leading bi-monthly technical journal for the airport industry, and is essential reading for anyone involved in the airport industry. International Airport Review keeps you informed of the latest developments and projects within the aviation sector, featuring articles on key topics, including: – legislation, baggage handling, ground handling, security, ATC, ARFF and cargo. At International Airport Review we pride ourselves on our editorial integrity. We attract the leading industry experts to write on subjects that readers need to know about. The strength of International Airport Review is reflected by our circulation figures, with an estimated 30,000 readers across the globe.

AsiaToday is a news platform that aggregates news content from a variety of sources, and through partnering with a number of news organizations and event organizers all around the world.
AsiaToday distributes press releases to online news channels, social media platforms, as well as offline media.

Interfax Business Wire Services
Global Reach, Local Services Interfax Business Wire Services provides a one-stop solution for companies seeking distribution and disclosure of press releases within and outside China.
In association with Business Wire, a subsidiary of Berkshire Hathaway, Interfax News Services brings the most comprehensive distribution and disclosure network to China. We can deliver your releases around the globe in virtually every industry sector.
A member of the Interfax Information Group, the leading information provider for emerging markets, Interfax News Services has obtained a profound knowledge of, as well as insights into, the business world in the Greater China region. This deep involvement guarantees that we know exactly what you expect of your news releases and how to ensure maximum exposure.
美国商业资讯(Business Wire)成立于1961年,是股神巴菲特拥有的伯克希尔哈撒韦公司旗下的全资子公司,是世界上规模最大的新闻稿发布和信息披露服务提供商。美国商业资讯每天用45种语言向150个国家的媒体传送新闻。 每年发布的几十万条新闻覆盖了几乎所有的行业,对全球资本与商业市场产生了巨大的影响。
成千上万的公司和机构凭借美国商业资讯的传播平台将他们的文本新闻稿、图片以及其他多媒体内容及时传递到世界各地的记者、金融专业人士、投资者服务机构、监管机构和普通消费者手中。
在中国,国际文传与美国商业资讯的携手合作更为大中国区的客户开辟了通向世界的直通车。您的公司和产品信息能够在第一时间以合适的语言发送到指定的市场。一站式的服务使您能同时拓展国内国外两个的市场,加强企业在全球的影响力。