Get Event Brochure
Registration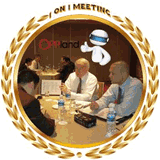 Sponsors

IDS Ingegneria dei Sistemi S.p.A. - Providers of high technology solutions and services
IDS is an independent engineering and systems technologies company, providing research, innovation and products in the electromagnetic and air navigation fields for both civil and defense applications.
Since 1980 IDS has specialized in providing consulting services for high-tech engineering projects and in developing integrated software solutions and measurement systems.
IDS has a strong customer focus and is committed to meeting customer requirements with high quality innovative solutions.
IDS is an international company with around 500 professional employees who are mostly graduates in electronic, telecommunications and aerospace engineering.
IDS'S headquarters are in Pisa, Italy and it has subsidiary companies in Australia, the UK, Canada and Brazil.
www.idscorporation.com

Quintiq's revolutionary Supply Chain Planning and Optimization platform enables enterprises to improve efficiency at every stage of the supply chain journey. Quintiq's Air Traffic Control (ATC) workforce planning and scheduling solution is used by a growing number of Air Navigation Service Providers (ANSPs) who are looking to solve their scheduling puzzles in fatigue risk management, rostering, operations, training, and more. Quintiq estimates that today, more than 35% of the world's airspace is in the hands of ANSPs utilizing Quintiq's SCP&O solutions including DFS, NAV CANADA, ASA, FAA and etc.
Established in 1997 and growing rapidly, Quintiq has a global presence with dual headquarters in the Netherlands and the USA, a global development center in Malaysia, and offices around the world. Quintiq's software is in use at over 500 locations and in 78 countries around the world.
More information
Rainbow Zhou
Quintiq China Marketing
Tel:+86 (0) 21 5351 3887
Email:rainbow.zhou@quintiq.com
http://www.quintiq.com/

Plantronics is a global leader in audio communications for businesses and consumers. We have pioneered new trends in audio technology for more than 50 years, creating innovative products that allow people to simply communicate. From unified communication solutions to Bluetooth® headsets, we deliver uncompromising quality, an ideal experience, and extraordinary service. Plantronics is used by every company in the Fortune 100, as well as 911 dispatch, air traffic control and the New York Stock Exchange.
EIZO Corporation has been a leading global manufacturer of high-end visual display products since 1968. We have acquired a wealth of engineering and manufacturing expertise in air traffic control, industry, business enterprise, medical, and graphics. This expertise together with representation in more than sixty countries enables us to provide a diverse range of innovative products and an unrivaled level of service and support worldwide.
EIZO's extensive lineup of display solutions fulfills the diverse requirements of almost any ATC environment by providing various feature sets, support for current and legacy systems, and reliable long-term operation. EIZO products are installed in ATC facilities worldwide including many operated by EUROCONTROL, HungaroControl, DFS (Deutsche Flugsichernung GmbH), LFV (Luftfartsverket), and Finavia.
EIZO offers a wide range of visual display solutions for ATC environments:
-Primary Control Monitors (4K x 2K and 2K x 2K)
-High-Bright Tower Monitors
-Auxiliary Monitors
-Primary Control Graphics Boards
-DVI-Based Video and Audio Recorders

Schmid Telecom's headquarters are located in Zurich, Switzerland. As a global company, we have subsidiaries in 6 other countries and a global distribution network comprised of reliable, experienced business partners in all the important markets. We focus on the development and successful marketing of our top quality products and solutions. Our production is handled by specialised local companies throughout the world that manufacture our products in accordance with strict control parameters. Our customers bene?t from high manufacturing quality and production ?exibility.

Established in 2003, Techsense is proud to be a leader in real-time, full IP and web-based weather information systems. . Our key strength lies in the meteorological expertise along with strong software and hardware skills, proved by the success of developing our own suites of related products with the latest technologies. Techsense METairport AWOS enables effective airport operations by combining all obtainable meteorological data at an airport with a suite of realtime data transmission and web-based intuitive user interface.