There is value that only Oppland can provide. At Oppland, we have the experience, range, quality, capability, and spirit of innovation to support your creativity through our conference and ideas. When you make moves on a global scale, we stand with you, helping to design your future - that is Oppland.
Stable senior team with experts to handle the industry conference over 6 years! Ensuring your conference tour is answer your questions, expand your networking and gain the wisdom!
Independent conference incentives to make your voice heard!
Integrating the demand and supply resources always!
We are always ready to make your incentive a success in China!
Corporate Video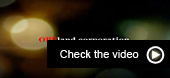 Event Management Case Study